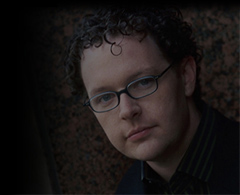 Gordy Haab is a multi award-winning film, video game and television composer who has written music for many well-known titles, including most recently: Activision/AMC's "The Walking Dead: Survival Instinct", based on the #1 hit TV series, Microsoft's "Kinect: Star Wars", which won "Best Music" at the 2012 Hollywood Music In Media Awards, and EA/Bioware/LucasArts' highly popular "Star Wars: The Old Republic," for which he was awarded "Best Original Soundtrack" and "Best Instrumental Music" at the 10th Annual G.A.N.G. Awards, presented at the Game Developers Conference in San Francisco.

Known for his unsurpassed understanding of the orchestra and his creative ability to blend contemporary and traditional styles, Haab recently combined the "scarier" side of the orchestra with Appalachian bluegrass instruments to create a frightening and backwoods-ey score for "The Walking Dead". Just prior, Haab paid homage to composer John Williams' iconic score for George Lucas' "Star Wars" by composing and recording more than two hours of new music for "Kinect: Star Wars" at the famed Abbey Road Studios with the London Symphony Orchestra and Choir. Haab's goal was to make the game's music both unique and familiar to "Star Wars" fans, in order to create a seamless listening experience from the movie to the game, while still taking fans to new musical places. To accomplish this he used the same orchestra, choir, studio, microphones, equipment and studio layout as used for Williams' original recording sessions more than 30 years ago.

A few of Haab's other film, television and video game credits include: Anchor Bay's "Behind the Mask: The Rise of Leslie Vernon"; MTV's "The Truth Below"; Dave Barry's "Guide to Guys"; Lionsgate's "War"; Dream Entertainment's "3 Below"; Roadside Attractions' "Shrink"; TLC's "Little People Big World"; ABC's "Greek"; NBC's "Kath and Kim"; VH-1's "Scream Queens"; Endeavor's "At the Edge of the World"; LucasArts' "Indiana Jones and the Staff of Kings", and many others.

In 2007, Haab scored the Internet phenomenon, "Ryan vs. Dorkman II" - recently featured in the Huffington Post and named the "Top Star Wars Derivative Film Of All Time" by TIME Magazine. The five-minute film, scored with a full orchestra at Capitol Records, received more than 7 million views on YouTube, including views from LucasArts, which is how they first learned of Haab's work.

Haab is currently the co-head of orchestral music and original scoring for "DP Music," an exclusive music content provider for Lionsgate Pictures, and is published by Cherry Lane Music Publishing. He also co-founded the Novo Philharmonic Orchestra for which he currently acts as composer and artistic director. Novo is a 95-member rock/pop/film orchestra in Los Angeles, comprised of some of the world's most cutting-edge musicians.

Haab is a graduate of the University of Southern California, where he received his master's in Scoring For Motion Pictures, Television and Other Media. Prior, he received a bachelor's degree in Music Composition at Virginia Commonwealth University. While he learned from many composers in university and conservatory settings, Haab says that most of his music education comes simply from, "Playing in 100's of rock bands and being an avid fan of Hitchcock, Kubrick, Lucas and Spielberg films . . . "B" Horror Movies of the 70's and 80's . . . and all of their great scores."

Haab currently lives and works in Los Angeles with his wife, Michelle.